Over Christmas 2003 I decided to find an old Rover 214 16V to get an engine, gearbox and ECU from. I was then going to get the engine and 'box reconditioned. I wanted an MPI (Multi point injection) version as this gives 101 bhp whereas the older SPI versions are only 89bhp. That meant that I needed a late 1992 onwards car. Looking through the local newspaper I found a K registered silver 5 door Rover 214 Si. I went to have a look at the car and to check that it was an MPI version. When I got there it was indeed the MPI, with 102000 miles on the clock. I wasn't expecting the car to be in good condition with it being 11 years old and high mileage, but I was shocked. There wasn't a speck of rust on it and the exterior and interior were in mint condition. I snapped the car up there and then.
My original plan was to quickly take the parts out that I need, then scrap the rest of the car. After owning the car for a few days I soon realised that it was far too good for a donor, so I sold it to a friend and went searching for another engine!
Click on the pictures to enlarge them.
After some searching and reading through the forums I found a link to www.roverbreakers.com who specialise in breaking late model, low mileage cars. I managed to get a 1.4 16v engine, 'box all ancillaries and ECU from a MG ZR and a set of rear calipers from an MGF for the rear of the Libra.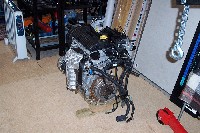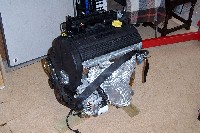 A couple of weeks before my kit collection I phoned round for some insurance quotes and found out that if I had a 1.8 VVC (160 bhp) it would only increase my premium a little bit. So, I went back to Andy at Rover breakers and got a VVC engine/box, MGF drive shafts and MGF hydraulic clutch cylinders! Third time lucky!