Today I started tackling the rear clam shell. The picture shows the rear lights in place and all wired up. The manual doesn't help here as it only covers the spyder!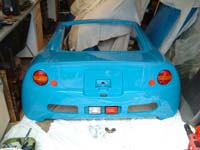 I then fitted the hinges to the boot. This wasn't as bad as I was expecting it to be. Each bracket bolts to the boot by two bolts. You have to cut a slot for the two bolts so that they can move around for adjustment.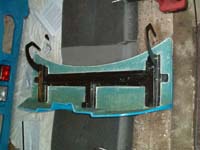 The boot lid fitted to the car. It took a little bit of time to align it correctly, but I'm happy with it now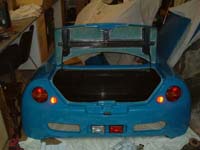 This is one part of the car that I really don't like. The lock for the boot fits to the outside! Once the number plate is fitted it is hidden, but I don't think its very good security. I didn't drill the hole for the key lock, as I'll fit an electric boot release.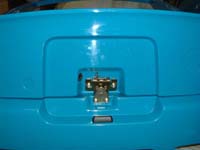 My new FSE, MPi fuel pump arrived today. It is a direct replacement in the SPi fuel pump holder as shown.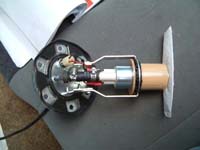 The drive shafts are now fitted. I had to take the nut off the top ball joint on the hubs to give me enough room to get the drive shafts in. I've heard of people having to 'bash' them in, but they went in without any fuss.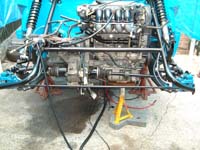 My custom made, 3 core radiator arrived from Loughborough radiators this morning. I'd asked for brackets to be put on it, but they'd been put on the long side of the radiator, rather than the short sides that most people use. I didn't fancy soldering new brackets on, as it was nicely painted up, so I managed to bend the brackets on it. I bent them over and just managed to get them to bolt up into the standard mounting positions on the metro radiator. I used rubber grommets between the rad and molding to give it a bit cushioning.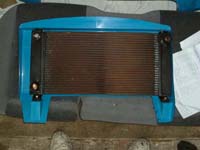 Work has now begun on the front clam shell. The indicators and side lights are supposed to be held in place with self tappers. I really hate the use of these so I bolted them on using some nice socket head bolts and nyloc nuts.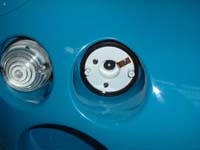 The front lights complete, except for the head lights which still haven't arrived!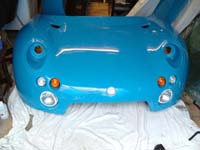 I got a great tip from the Team GTM forum that the paint to use on the back of the fiberglass is black board paint. The front and rear clam shells are shown below painted in it.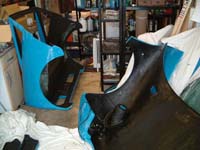 The last thing I did today was fit the beam end covers and the front splash moldings. Here again self tappers are supposed to be used, but I tapped a thread into the monocoque and used some M6 bolts instead.