I'm back from my holiday on 'Oriana' and I'm tempted to take the phone off the hook for a week so that I can get stuck into getting my Libra built.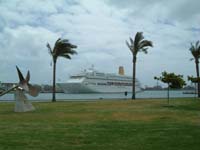 My anti-roll bars arrived whilst I was away. I got them on straight away as it was holding me back on getting the brake lines in, as I wasn't sure how well they fit around the roll bars. The drop links that came with the front bar were too short, I need to speak to GTM about this.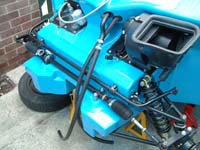 The rear went on very easily, but I've left the drop links off until the engine goes in.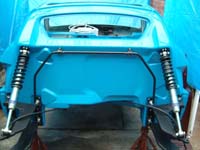 I then moved onto the front brake lines.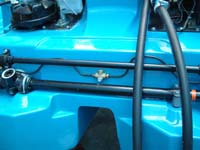 As you'll see in the next couple of pictures, it was quite a squeeze getting the brackets in around the roll bars.
The rear brake lines were a doddle compared the front!
The brake lines connected to the master cylinder.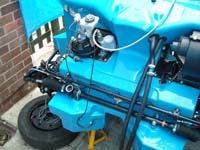 The rear hubs were next fitted with the pivot arms and calipers.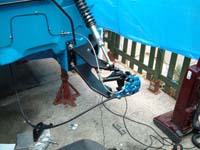 It really feels like I'm progressing now, as the radiator ducting went on next. The bolts were quite fiddly to tighten up as the pedal box was in place, but I managed it. You can also see that I've put the battery cables down the tunnel. The clutch pipe and servo pipe are also mounted in the tunnel too. I had to re-bend the brake line that goes to the rear as when the battery box went in, it was in the way.