The wiper motor/mechanism was installed today. The holes marked on the tub didn't really line up, so I had to mark my own out. I've heard of water leaking around these holes, so I've filled them with plenty of silicon. I had to grind the edges off the arms of the mechanism around where they join the motor, as they were just scraping on the fiberglass.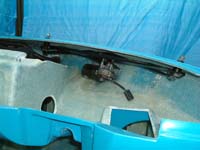 Whilst I had the grinder out, I grinded a couple of slots in the front spring seats as I wasn't happy with them touching the damper mounts.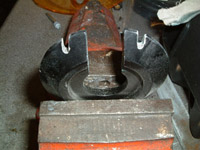 I'm more happy with this now, as it seems to all fit a lot better now with these couple of slots.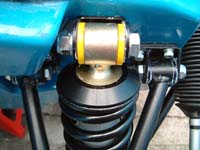 I'm still waiting for the rear suspension mounting brackets, so all I've been able to do so far on the rear is mount the dampers. Hopefully the brackets should be here in a couple of days.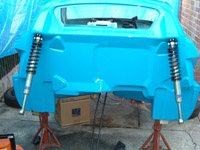 I've had the rear suspension mounting brackets and a few other bits and bobs personally delivered by Stuart Clark today, which was very good of him, so I can get the rear suspension finished tomorrow.
I'm using MGF rear brakes, so I had to drill out the caliper mounting holes on the metro hubs to fit a special spacer for the MGF caliper brackets to fit. In the picture, the left hole has been drilled and the spacer inserted. The right hand hole is standard. It needed to be drilled out to 17mm, and I had quite a bit of trouble finding somewhere that sold that sized drill bits.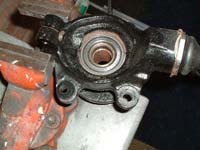 The MGF caliper mounting brackets fitted to the hub.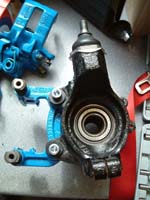 I next moved onto fitting the seat belts. After hearing about other peoples problems with the rear mounting brackets falling off when you un do the main bolt, I decided to do what a lot of other people have done and tap the bracket. You can just see the bolt in the picture that holds the bracket on. I also added a nut to the back to lock it on tight, just to make sure.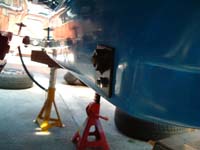 The seatbelts installed. I think the red looks good against the blue.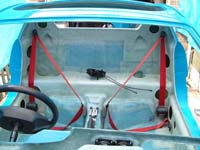 The mounting brackets for the rear wishbones were an absolute nightmare to install. It's hard to describe, but you needed to reach right through a box section from inside the car to get the nuts/washers onto the brackets. I've got quite long arms and only just managed to get them on. My arms were covered in fiberglass 'prickles' after finally getting the brackets on.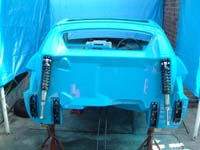 These are the spreader plates that hold the mounting brackets on, all the way down a side of the box section.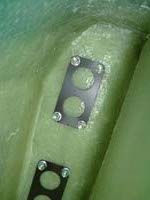 The rear wishbones fixed onto the mounting brackets.