I've had a very productive day today. I got the majority of the front suspension built. Unfortunately the pedal box did have to come out, as the access to the mounting brackets is very tight to start with.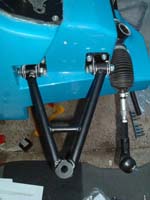 The top wishbone is attached first. Annoyingly when I drilled the first of the dimples on the tub, it was very close to a bulkhead on the inside which made bolting up the spreader plate quite tricky, and very time consuming.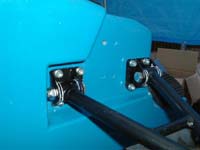 Below is the completed drives side suspension. The top suspension mount touches the spring seat, but I think this happens to everyone.
Passenger side suspension completed. The bump stops on my shocks weren't fitted from the factory and I didn't want to grip the shaft of the piston too tightly to get the ends off, so I put a cut down the side of bump stop to slide them on. I don't think they'd come off, but I've also put a couple of tie raps around them for safety.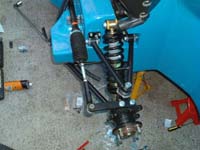 mmmm...nice donor wheels! I don't think I'll bother with alloys!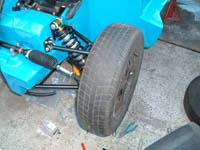 The holes for the handbrake mounting were marked out according to the manual, and all seemed to line up very well. I've heard of people struggling here and having to move parts forward, but all seems well.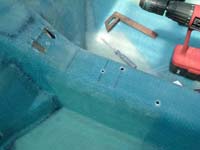 I had to chamfer the holes for the grommets to fit, as the fiberglass is a lot thicker than the metal on the original car. I also put a bit of sealant round them, just to be on the safe side.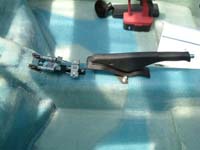 The special modified hand brake cables for the MGF rear calipers.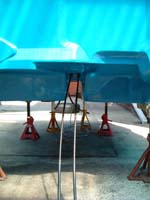 I next tackled the gear change. It is totally different from the standard metro one, as the 1800 VVC uses the PG1 gear box. The gear change is specially made by GTM. The instructions in the manual are pretty poor on how to put it together. Basically you have a box full of black metal bits and a picture to follow!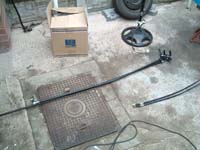 The hole for the gear change and bracket installed.